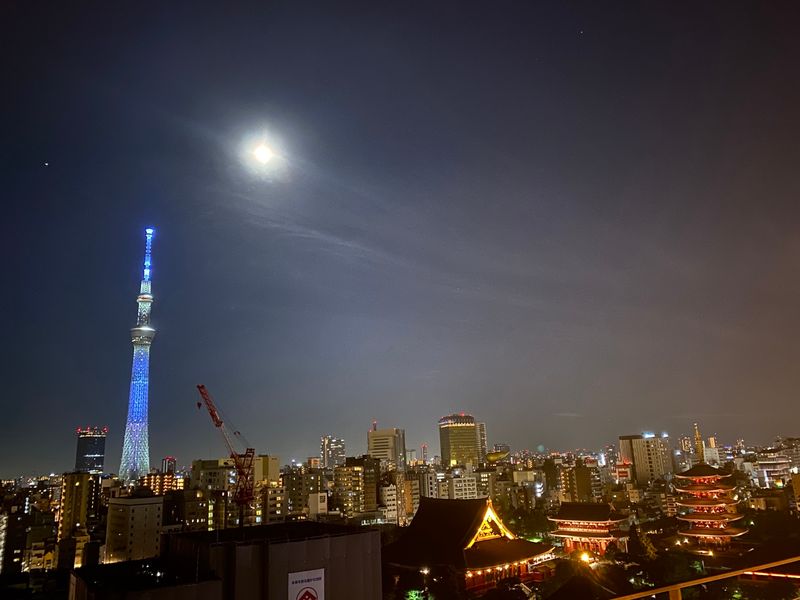 〘event〙Full Moon Viewing Event with Matcha and Dango (Scheduled for September 29th)
We sincerely thank you for choosing THE KANZASHI TOKYO ASAKUSA for your patronage.
On the upcoming September 29th (Friday) during the Mid-Autumn Festival's full moon, we are collaborating with the Chado (Tea Ceremony) Club of Kaichi Nihonbashi Gakuen Junior and Senior High School to hold a Full Moon Viewing Event where you can enjoy matcha and dango (rice dumplings). This event is a realization of the students' desire to promote Japanese tea culture and their wish for guests to appreciate the beautiful scenery created by Asakusa's night view and the full moon from our hotel's rooftop terrace.
Our rooftop terrace on the 14th floor, usually exclusive to hotel guests, will be open to the public on this day. We invite you to experience the unique Full MoonViewing event offered by THE KANZASHI TOKYO ASAKUSA, where you can enjoy matcha and dango while gazing at Asakusa's night view, the Skytree, Senso-ji Temple, and Hanayashiki.

[Event Details]
– Date and Time: September 29, 2023 (Friday) from 17:00 to 20:00 (Last Order at 19:45)
– Menu: Matcha and Dango Set – 500 yen (Including service charge and consumption tax)
– Reception: 1st floor, ELOISE's Café
[Notes]
– Please note that there is a limited quantity of dango available, and they will be served on a first-come, first-served.
– Due to unforeseen circumstances, there may be changes to the scheduled event.
– In case of rain, the event will be held at ELOISE's Café on the hotel's 1st floor.